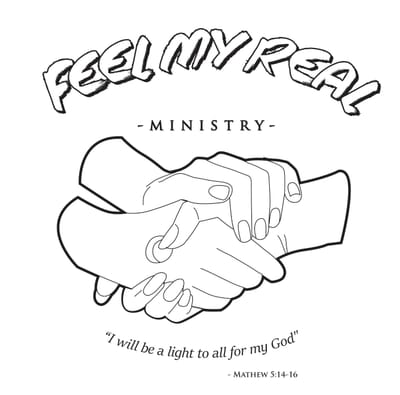 Feel My Real Ministry came to life on February 20, 2016. Myself and a good friend from church, Vanessa Flemming, had a vision. God had shown us our purpose so we wrote it down and made the vision plain.

We came up with the name one day on our way to minister to a local group home. We were trying to figure out something new we could do with the children, something "hip and cool", so we came up with the slogan feel my real. We really were using it in terms of being transparent with them and not so much like the rest of the adults they encountered daily. It was a hit!!!

Thats when we decided that Feel My Real would be the perfect name for our ministry. A change came with the ministry when God showed Vanessa that she needed to focus on a book she had been writting for years. So I prayed about it and God instructed me to allow Him to finish what He started. I remained obediant and continued to allow God to use me and WOW is He using me! I vowed to give it my all, in honor of my son Gee, and do whatever it takes to suceed at building Gods Kingdom. For me, this ministry wouldnt be what it is if it wasn't for my sons death. So in a way it's a way to pay tribute to him and give back to the community on his behalf. I speak at schools on suicide prevention, bullying and removing the stigma attached to mental health illness. I minister in youth detention centers and prisons. I volunteer at the homeless shelter and spend time with the homeless community to see how I can better help facilitate with resource help and in return reduce the local homeless population.

Feel My Real means exactly what it says. It means transparency, truth, hope and understanding. This Ministry is a faith based ministry, I speak often on faith and what it takes to build your faith. I don't minister or share religion, I minister and teach about relationship. That's what it's really about! Not structure and order that says you have to wear this and can't look like this, that is religion. Relationship is personal, it's intimate and special. When speaking on building a relationship with God I often refer to my husband. How could I have a 14 year reltionship of love, trust, knowledge of who he is, if I never spoke to him and asked him about his life and interest? How would it last if the only way I knew anything about him was by a book that was written by family, friends and foes? It's the same way with God, He wants you to ask Him questions, get to know Him on a personal level so you can build trust, love and knowledge. Reading the Bible is a good start but we can't, as sinful humans, expect to grow in love and trust just by reading the Bible, we need to pray! Speak to Him! Get to know God for yourself, I promise, He will embrace you with open arms. Go ahead, it's never too late!

When I do video ministry, I go live on periscope (@Feel My Real) and also on the ministry facebook page, then upload those videos to my youtube channel. Don't forget to subscribe please!